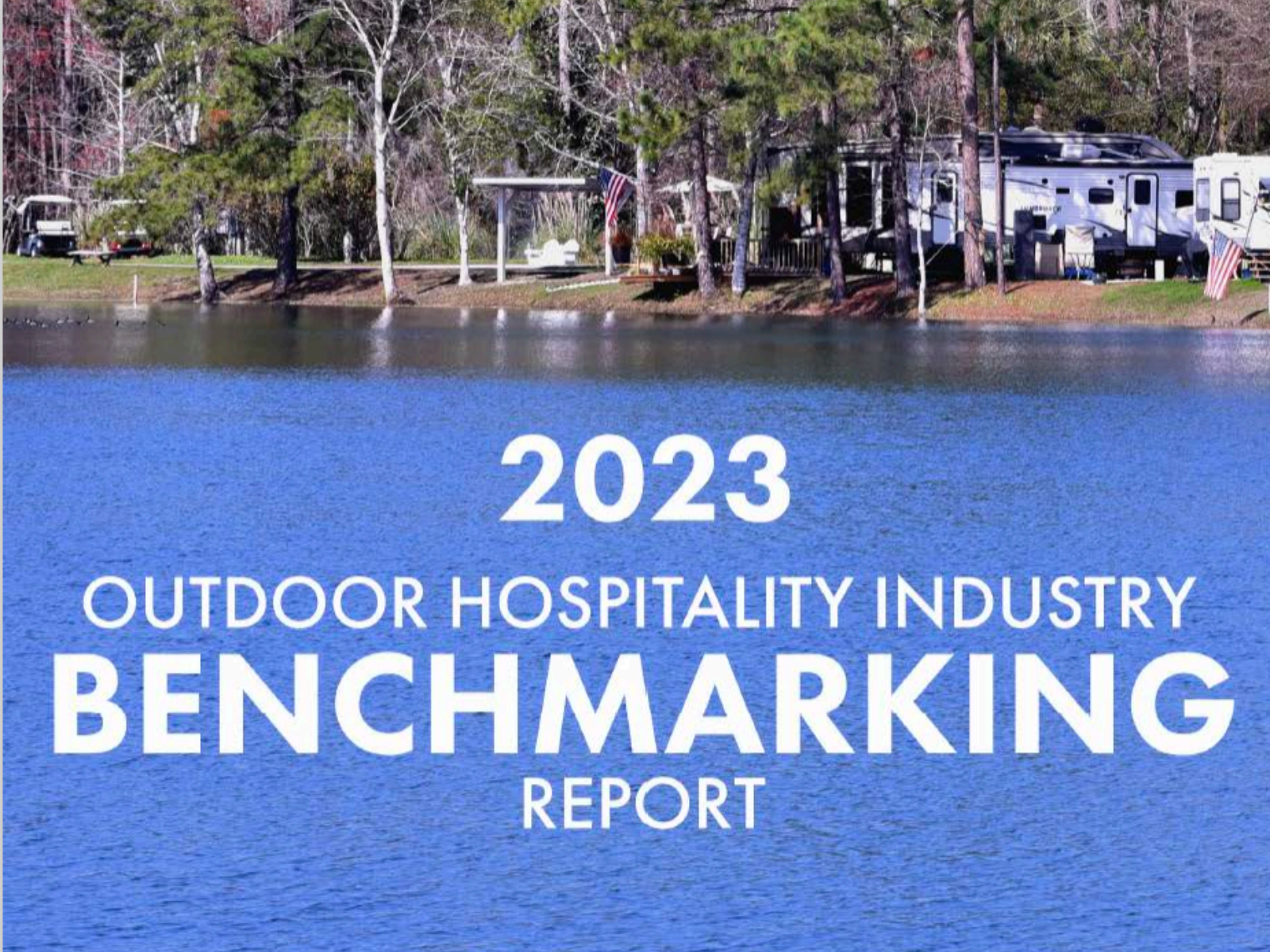 Launching the 2023 Outdoor Hospitality Industry Benchmarking Report
The Competitive Edge Blueprint for Park Operations
November 2, 2023
National ARVC is proud to announce the release of the highly anticipated 2023 Outdoor Hospitality Industry Benchmarking Report, an in-depth look at the current state of park operations across the US. This report provides valuable insights into the outdoor hospitality industry, offering in-depth analysis that will be an important tool for parks looking to gain a competitive advantage. It's not just a collection of statistics but a narrative of the industry's pulse. 
Within the pages of this report lies the blueprint for park owners to map out their competitive edge; it's about finding the hidden potential in regional distinctions and turning them into strategic advantages for success.  
This report is especially useful for small business owners because information like this is not readily available to independent park operators. Historically, this information had been mainly accessible to corporately owned or branded parks, but the majority (78%) of parks and campgrounds are individual/independently owned small businesses.  
What are other parks in your area paying their best employees? How does it compare with what you're paying? The insights on employment practices and salary differentials are not just data points; they're what will guide park owners toward more effective recruitment, ensuring they attract and retain the best talent.  
For example, did you know three in four parks (75%) find it necessary to pay above minimum wage to attract the right talent? A significant 42% report needing to pay substantially higher than the minimum wage—$3 or more above it—to secure qualified employees.  
"This research gives outdoor hospitality businesses insights that drive sound business decisions," says David Basler, chief strategy officer for National ARVC. "Our mission is to help our members and the industry as a whole succeed, and this is just one of the many ways we do that." 
Interested in an industry expert deep-dive of this report?  David Basler, Chief Strategy Officer at National ARVC, will be moderating the panel of outdoor hospitality industry thought leaders to discuss the critical insights and key takeaways from this report along with the 2024 Outdoor Hospitality Industry Outlook Report and the 2023 Generational Camping Report at OHCE2023. Attendees will have first access to data from the biggest research reports in the outdoor hospitality industry, examined by some of the industry's best experts. This is an opportunity that should not be missed. 
Research reports are an exclusive National ARVC member benefit. Members can access the Benchmarking report here, 2023 Outdoor Hospitality Benchmarking Report. The 2023 Generational Camping Report will be officially launched at OHCE2023 on November 7 and the 2024 Outdoor Hospitality Industry Outlook Report will be launched in early December. 
Get a sneak peek at these reports by registering to attend the November 7th panel at OHCE2023 at www.arvc.org/ohce.