GoCampingAmerica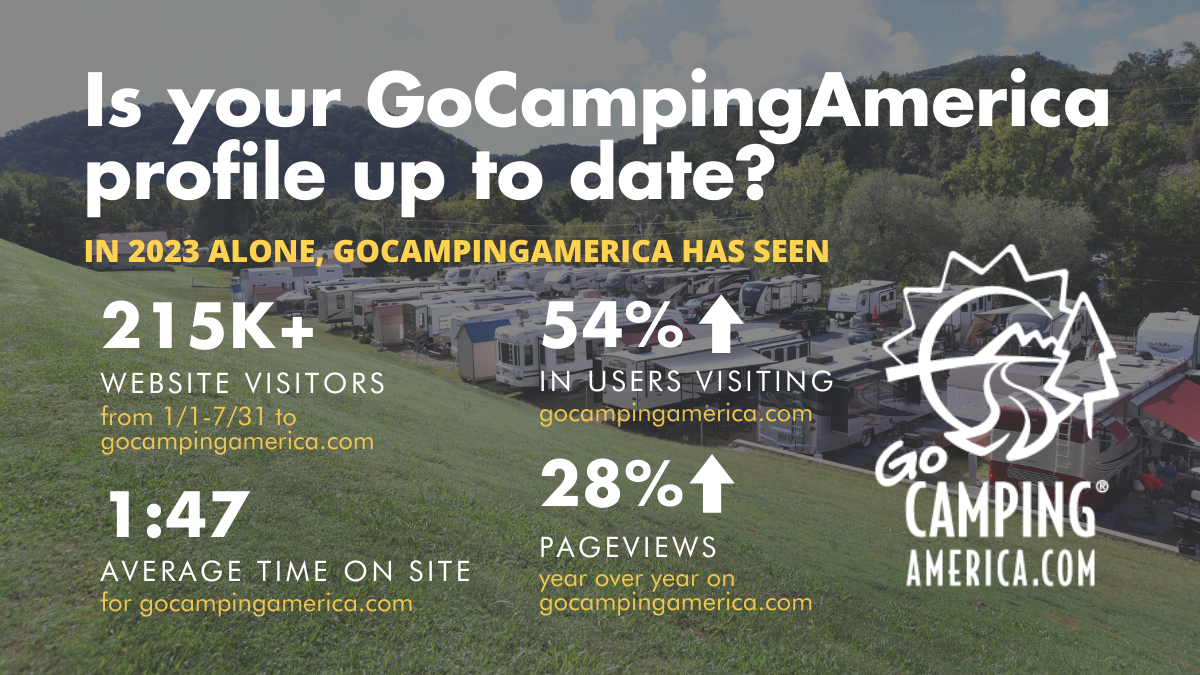 The National Association of RV Parks and Campgrounds (ARVC) is proud to help our members find new customers through our consumer-facing website, GoCampingAmerica.com. GoCampingAmerica is focused on helping the more than 25 million Americans who go RVing each year find their next adventure. If you want to attract new RVers and campers, then GoCampingAmerica.com is the best place to be! GoCampingAmerica.com is one of the largest campground databases online. We feature a powerful search engine which allows campers to pinpoint their exact needs or compare parks along their route by searching in broader terms. We serve a million campers each year, helping them find their next adventure, including where to stay, activities to try and general camping resources. 
As a National ARVC member you receive an exclusive listing on GoCampingAmerica.com. Your complimentary listing includes:
A description of your park, so you can be sure to include all the important features, events and attractions that best describe the experience campers can expect when visiting your park;
High-resolution photos and videos to show off your park and give potential customers a glimpse into the experience you provide;
A list of park features that includes the amenities, recreational activities, services and site options you offer, as well as any consumer discount programs you accept;
A link directly to your website and/or your reservation system so campers can book their experience with you immediately;
Google mapping to make it easier for campers to see your exact location;
Links directly to your social media accounts; and
An area highlights section so you can provide a full list of local interests and attractions and provide detailed driving directions to help campers find you.
Not seeing your park listed on your portal? Contact National ARVC at membership@arvc.org or 303-681-0401 for assistance.

Not a member? Want your campground listed? Learn more here.